Thermal Laminating
Gloss, Matt and Silk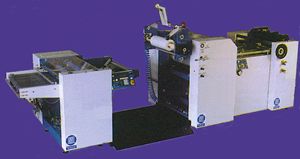 Laminating offers enhanced image and protection for your documents and helps prevent tearing and creasing.
Our in-line laminator provides high speed top quality production with fast turn around. This, combined with our collection and delivery service ensures we can offer you a fast and reliable service.
High speed in-line system offering sheet to sheet thermal lamination to the following specification:


Maximum sheet width 760mm
Minimum sheet width 210mm
Maximum sheet length 1020mm
Minimum sheet length 250mm
Paper range from 90 - 450gsm


Units 1 - 4, Halesworth Business Centre,
Norwich Road, Halesworth, Suffolk IP19 8TS
Tel: 01986 874551 Fax: 01986 874587 email: sales@hpfi.co.uk

© 2017 Halesworth Print Finishers Ltd - All rights reserved - Website Hosted by Red Dune