Thumb Indexing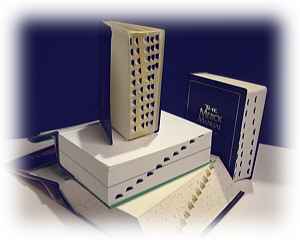 We specialise in thumb indexing high quality reference books and Bibles on paper as low as 28 gsm.
Thumb Cuts and Tabs
We can produce as many cuts as your copy will take and manufacture tabs on vinyl or paper and over-laminate, to meet your requirements.
You can either supply us with camera ready copy for the thumb index tabs or we will generate text for you.
After indexing we can jacket, shrink wrap and pack or carton as you choose.
Ribbon Bookmarks
We offer a complete service for bookmarks to be produced, including attaching marker ribbon (see left) or cord and fixing it into your bound books.

Units 1 - 4, Halesworth Business Centre,
Norwich Road, Halesworth, Suffolk IP19 8TS
Tel: 01986 874551 Fax 01986 874587 email: sales@hpfi.co.uk

© 2017 Halesworth Print Finishers Ltd - All rights reserved - Website Hosted by Red Dune